Commemorative plaque – black acrylic
Approximately $120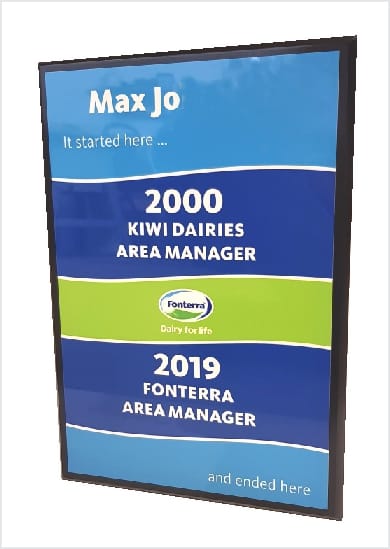 Description
Plaques are the traditional way to commemorate milestones and achievements. As they have a large surface area there is plenty of room to fit the details of the milestone or event. It also allows for logos, quotes, signatures and even images to be added to the design. This black acrylic commemorative plaque features a white metal title plate. We can digitally print to the front to include colour logos and interesting graphical design elements. This allows not only a special looking plaque for the recipient but also allows to keep the design within brand guidelines.
Black acrylic with white metal front
Full colour print on front
Can be made to stock A5 and A4 sizes, as well as custom dimensions
We offer a full graphic design service or can use your own artwork
Other options such as engraved plates are also available, contact the team if you have something specific in mind
If you would like a quote or more more information on this design, please use the
contact us
page. Approximate price range $90 - $150 + gst per award pending size, quantity and artwork. Please contact us for a firm quote and availability.