TROPHY ENGRAVING
Traditional and computerised engraving methods
Reward the success of your employees, students or local sports teams with eye-catching, personalised trophies from Xpress Awards.
We've been custom engraving name badges, home trophy cups, medals, plaques, shields and corporate awards for over 30 years. Whether you are looking for a one-off award or a hundred trophies, call or leave us your email address and we'll help fulfil your team's recognition needs.
Award Trophy Engraving Methods
A number of different engraving methods can be used to mark different materials and achieve different finishes. We have a number of engravers to achieve good results across a range of materials. Some materials and objects are harder to engrave than others, one of our team can help you decide which will be best suited for your application.
How long does it take to engrave a trophy?
General turnaround on engraving is 2 weeks but is also dependent on quantity and artwork setup approval times.
Our team takes pride in their work to ensure you're 100% happy with the quality. Once something is engraved it cannot be removed.
The time frame depends on the quantity, the preparation of artwork and approval times. We aim to have your trophy cups, plaques, shields, medals, awards, badges or corporate awards completed within two weeks but it can take longer especially during peak times.
How much does it cost to engrave a trophy?
Basic engraving of shields, plaques, name badges, medals and trophy cups starts from $15 for large volume orders. One-off and tricky items can get as high $120 per item. Our prices depend on the size, quantity, artwork involved, and machine time. To receive a personalised quote, take a picture of the item and send it to us, along with the engraving details.
Router engraving
This method uses a spinning cutter to physically cut into the surface of the material. It can achieve the deepest engraving into the surface and is suitable for almost all materials. Most commonly it is used to engrave metals. It is the slowest and most expensive form of engraving so is not used for most applications. It is usually reserved for outdoor plaques that need to resist the elements.
The finish achieved is dependent on the material itself. On coated or plated metals the engraver will remove the top coating leaving whatever is exposed underneath. On solid metals the engraving will come through the same colour, so sometimes paint fills are used to create more contrast.
The process involves first securing the item to be engraved in the machine. For oddly shaped items this can be be difficult and some shapes cannot be engraved, as the engraving cutter cannot follow the shape of the surface. Next the design is setup in a program and the cutting parameters are set. Being a digital process a large range of fonts can be used as well as simple images such as logos. Next the artwork is sent to the engraver to mark the material, followed by clean up and any filling processes.
It is generally the slowest method of engraving as moving the cutter too fast through the material will result in an undesirable finish. Engraving is not a reversible process so things must be setup correctly. Sometimes a test piece is required to ensure a desired outcome. On coated or plated materials there is a danger that after engraving the rest of the plating begins to peel away. This is not something that can be determined beforehand as it depends on the quality and processes used by the manufacturer, again a text piece is always best especially for expensive items.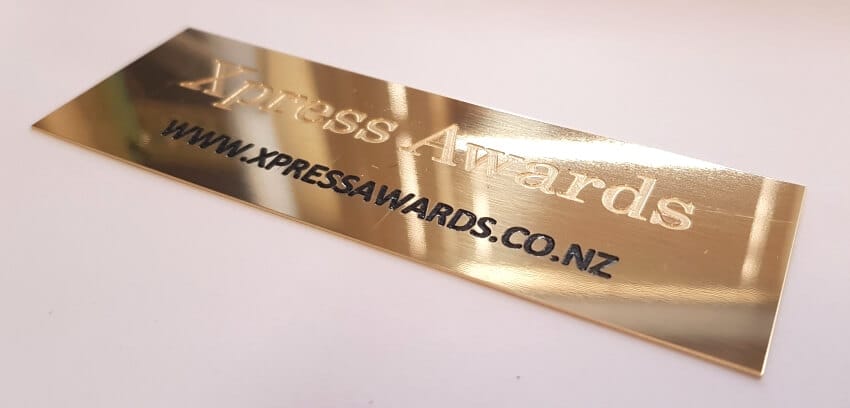 Laser engraving
How does a laser cutter work?
Laser cutting is a contactless process. A concentrated beam of light vaporises the surface, which leaves the surrounding area untouched and undamaged by abrasion.
What trophy materials are suitable for laser engraving?
This method is ideal for use on wood, leather, glass, acrylic, stone and a selection of metals. We load your design into our software for high-quality, mono-tone, digital output. We can laser any fonts, images or logos onto your corporate plaques, shields, trophy cups and medals.
On wood the engraving comes out differently depending on the type of wood. Some will go a darker burnt colour while others will be a light brown. On glass thousands of tiny shatters marks are created which leaves a frosted white look. Acrylic and stone also engraves in a white colour.
The laser engraver works off digital outputs so artwork is created in design software. Any fonts and logos can be used. The resolution achievable is higher than router engraving so images can be used. As engraving only comes out in one colour some adjustments must be made to images before engraving.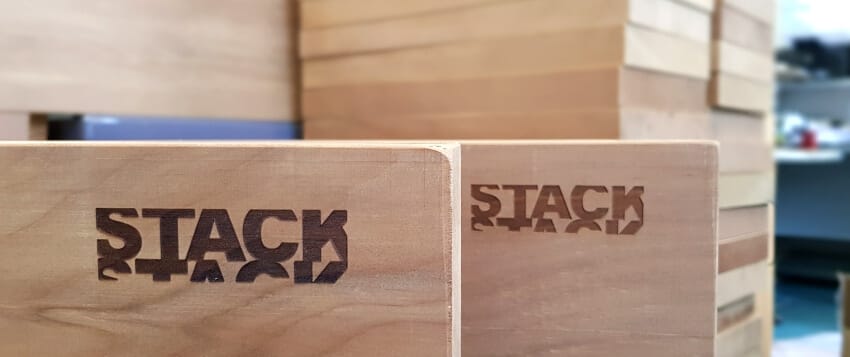 Diamond cutter engraving
This method is similar to the router method but instead of the rotating cutter it uses a diamond tip which is dragged against the surface of the material leaving an engraved mark. It can be used to mark most materials, but generally is used on metals such as cups.
The process can be done manually using stencil lettering or on a computer controlled engraver. As the diamond tip is very narrow only a thin line is, achieved. Cross hatch or fill patterns can be used on larger fonts or logos.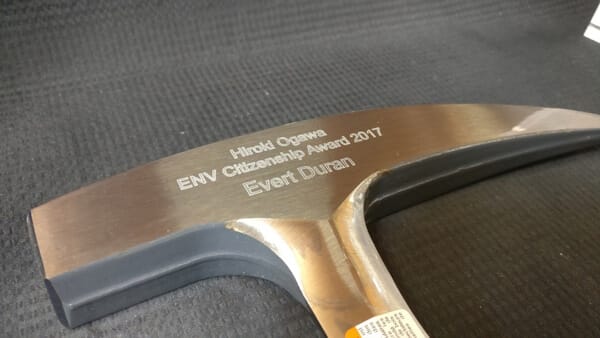 Colour engraving
If a material can be engraved deep enough then colour can be applied by filling it in with paint. This is a slow and expensive process due to the application and clean up required and not commonly used. With deep engraving resolution is not very high, so detailed or small text and logos aren't suitable with this method.
Different methods of engraving in colour
For large colour orders, pad printing or screen printing provides sharp, high-quality images. For smaller quantities or one-offs, we recommend direct to substrate printing which requires minimal set-up. This is not possible on a lot of shapes and surface materials.
Caring for colour engraving
Colour printing is semi-permanent but will continue to look great for years to come. To best maintain the colour, keep coloured items out of direct sunlight to reduce fading.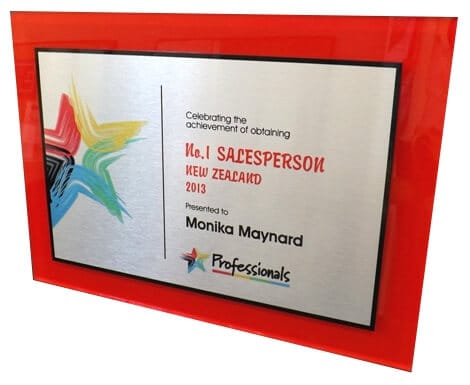 Wood Engraving
Wood engraving tools and process
Natural wood is a perfect material for use with trophies. NZ-wide shipping is available for our wood shields, plaques, and corporate awards – these will stand out with beautifully lasered imagery, adding a touch of class to any awards presentation.
Metal Engraving
Metal trophies, medals and badges are generally crafted from aluminium, brass and bronze. The stable weight gives them a superior look and feel, with engraved text to last the test of time.
Order engraving from us
Contact us online now and leave your email address for a quote on any glass, metal or wood engraving.
Phone: 09 377 5705
Postal Address: PO Box 57 044, Auckland 1041
Shipping
For our trophies, we offer a same day courier service to your Auckland home or office. We will ship your items to other North Island addresses on an overnight service, and South Island deliveries will take 2-4 working days.
Here at Xpress Awards, we want to help you give your top performers the recognition they deserve. To do this, we'll assist you in choosing the best award for your recipients, and the occasion. We offer the best-personalised design, high-quality production, quick delivery and unbeatable customer service. Let us help you design outstanding corporate awards, trophy cups, medals and badges today.